Testimonials
JOHN & THERESA HULLEMAN
MAY 17, 2017

 9 BRONDI'S LANE, FONTHILL   (TIMMSDALE ESATES)
10+ years ago we were very blessed to have met Cindy and John Raskob. Since then, we've done business with them 4 times, buying and selling two times each. Each time, Cindy has gone above and beyond to seal the deal for us, and we've given her some real challenges. Cindy is always up to the task and does her work with professionalism, enthusiasm, energy and with great heart. Cindy is a real 'people person' and both Cindy and John have become good friends over these last years. They make a great team; John is very keen about stats and Cindy is all about building relationships. They are extremely dedicated to their clients and have a deep understanding of the market in the Niagara region. We would highly recommend them to assist you with buying or selling; they will take the stress out of one of the biggest and most important purchase(s) you will make; they will find you a home to love.
 
Wishing you God's blessing,
John and Theresa
                                                                                           
 
April 25, 2017    Lee Ann Smith & Richard smith    14 Whitehall Gate, Fonthill
 
 
Good Morning,  Thank you again from the bottom of our hearts for surpassing even our dream price !!!  Thrilled to be your new record holders but won't hold it against you if you break that record.   Have no doubt, you will in 2017 !!
Such a stressful thing selling a home (especially one you love) but you two really, really care about people and that is so comforting. It is one thing to do a great job, but it is so much more than a job to you and John--and that is why you are-- and will continue to be successful.
 
CRAIG & SUSAN BERNARD – 591 METLER ROAD, PELHAM  
MARCH 2017
 
Cindy & John were introduced to us through one of their listings that we wanted to see.  They were on vacation at the time, but still took the time to call us (from Bermuda!) and that was the beginning of how we realized they are extremely focused on customer service.  After many different meetings discussing our home and options for us, it was again clear that their connections are of the utmost of importance to them, and as a customer, we felt lucky to have met them.  The energy and passion in both of them are incredible and we doubt we will see it again in any other agent we will meet!  The difference with Cindy and John is that they focus on the right thing for the customer, will help out any possible way they can, genuinely enjoy people and getting to know their stories.  Having agents that are so caring and honest on top of being extremely knowledgeable and reliable won us over countless times.
We would highly recommend them without question, and always know they would help us out in the same way again.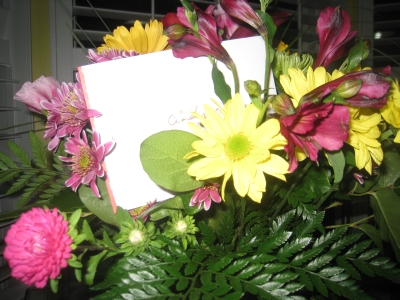 Cindy,

Thank you so much for your hard work, sensitivity and dogged determination to sell 2784 Effingham Street to just the right buyers.

It has been our pleasure dealing with you.

We are truly grateful,

The Mitchell Family


---


A few months ago, I was handling my mother's estate affairs for the family and needed to sell her house. Not having bought or sold in many years, I had no contacts in the business and needed a Realtor. Cindy Raskob was recommended to me and I decided to give her a call. I was so very glad I did.

Soon after that, Cindy came to assess the property. She immediately impressed us with her friendly, enthusiastic personality and her obvious knowledge of the area and market conditions. We quickly listed the property with her and in no time, the place was well advertised and open houses began. Within 3 weeks we had 3 offers, and SOLD for MORE than the listed price! That was a terrific result and a real load off my mind - but we were not done.

I was asked to help in the sale of my wife's family home, not 2 weeks later. Well, I knew who to call. Cindy did a lot of research and took the time to explain everything to us, taking special care when needed. A well-loved home is hard to leave and Cindy understood that finding someone else to love it would make it easier. That's exactly what she did. After many, many viewings and countless phone calls she found just the right buyers and we happily sold it. All this in just about 3 weeks!

I have found that Cindy always communicates extremely well, she's completely open and honest, and thoroughly professional. She makes a difficult job seem easy and the results speak for themselves.

Sheldon & Sharon Carl


---


John and I contacted Cindy Raskob because she had sold two houses on our street and one was similar to ours, so we thought she would have an excellent idea as to how much ours would be worth. She came, had a good look around our home and suggested that we could ask between so and so. Because a there were a couple of areas that needed work in the near future, we chose in the middle of the suggested price. I had thought we would wait until spring to list, but Cindy advised us that people looking in the fall are usually serious buyers. We took her advice and listed.


Cindy was very efficient and quick compiling a brochure and advertising our home at its best. From the very first, there were lots of showings a many came through the first Open House.

We left for holidays to California, and she held another Open House. She contacted us while we were in Lake Tahoe to inform us that three offers would be coming in, so we went back to our Hotel to wait for the offers by fax to come in. When they did, we had half an hour to look them over then Cindy called and went over each one page by page with us. With Cindy's guidance we chose one and sent it back to the owner asking for a longer closing date, which was agreed to. They ask for a home inspection, which we readily agreed to. Our home passed the inspection with flying colours so it was SOLD.

It had just been two weeks since we had first listed with Cindy.

After arriving home, Cindy gathered information on many properties for us to choose from to view. She was very accommodating to our schedule for viewings, and even got us in to see one house, which we wanted to see, that had been taken off the market. She even accompanied us to the builders where we signed a contract to have our new home built.

John and I really enjoyed our experience with Cindy. We found her to be professional, personable and accommodating. She was efficient and quick gathering information and compiling everything together. Her suggestions, advise and guidance where very helpful to our decision making. Most of all we just loved working with her and have recommended her services to many others. She is bubbly, efficient, trustworthy, assertive, professional and informative.


Thanks Cindy for everything
Joy & John Mccandless

---


It was our distinct pleasure to write this letter recommending the services of Cindy Raskob as our Real Estate Agent. With her help, we just recently sold our home - getting $10,500 above our asking price.

From our initial conversations, it was clear that Cindy not only had a wealth of knowledge of the local real-estate market but that she also had superior skills in the area of strategy and sales. With her guidance we listed our home at a price that not only competed in the market but attracted many buyers. In LESS THAN 2 WEEKS, we were sitting at the table reviewing not one, but three offers! It was Cindy's ability to create such a 'buzz' about our home that enabled this outcome.

Most often, selling a home is not only a financial decision, but a very emotional one as well. Throughout the process we experienced Cindy to be cognitive of that duplicity and sensitive to both areas.

Without reservation, we offer our heartfelt recommendation.

Sincerely
Stefan & Christine


---

Mary and Ernie Amo, 1188 Haist Road

Cindy Raskob is a very professional, honest and devoted Real Estate Agent, and a credit to her profession. As a client, she has your needs and wishes first and foremost. You feel, and know, you are NUMBER ONE! Cindy works extremely hard for you, and always gives you ONE HUNDRED & TEN PERCENT all of the time. In our estimation, you cannot find a better agent. All that said, Cindy is also one GREAT lady.

Sincerely,
Ernie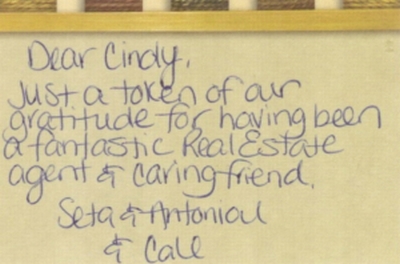 ---


MR. & MRS. J. HOLMES, 35 DALEVEIW CRESCENT, FONTHILL, ON

We are writing this letter to you to thank you so very much for all of your fantastic efforts in assisting us in finding our "dream" family home. Despite some challenges, you have ensured that our journey into home ownership was a great success and one which we will always remember.
If there ever comes a point where we may need to relocate (to England maybe?), we would definitely seek your services again to sell our house. Also, we will highly recommend you to others who are looking for an exceptional realtor. You are aware of how our story began and now you are a part of our story in the present and in the future.

---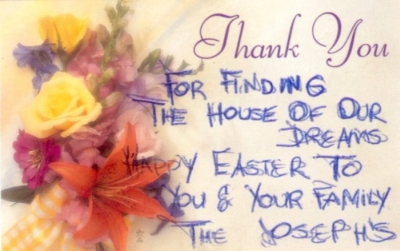 Mr. & Mrs. Noel and Pauline Bilodeau, 163 Southworth, Welland, ON

Cindy communicated often and gave us the right information to help us with our decision. What really impressed me was her professionalism and loyalty and personal touch. I will not hesitate to recommend her to my friends and family. She made us feel very special. We appreciate her dedication and her knowledge in selling our apartment building on Southworth Street in Welland. If we ever need a Real Estate agent, we will know where to look. Also, a big Thank you for your nice gift upon the completion of the sale of our apartment complex. I will also mention, our complex was sold in just 4 days and Cindy encouraged a competitive situation and we got 6% more than our asking price. Great Job!

Yours truly,

Pauline & Noel Bilodeau

---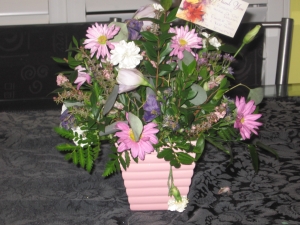 Gina Crognale, 17 Whitehall Gate, Fonthill, ON

My fiancé Mike and I recently purchased a home in Fonthill from our friend and realtor Cindy Raskob. I would like to commend Cindy for her commitment and professionalism in dealing with other agents, vendors and most important her clients. Mike and I spent many evenings with Cindy searching for our home. House after house, Cindy's commitment was evident until finally Cindy found us the perfect home for our family. Thank you Cindy for making our dream come true!!!

Sincerely,

Gina Crognale

---
"Congratulations on selling Roberts Road, you're doing so well in Grimsby that I guess you'll be moving here soon. We're both very proud of you after your latest achievement (the 2007 Platinum Award), but it is well deserved. (We've seen how hard you work!)

We have no problem bringing a Professional Stager in our home, if you think this will be worthwhile. I would think that having YOU in our home while it is being shown would add all the WOW that any home would ever need!!"

Burt & Mary Thombs, Grimsby
____________________________________________
Cindy,

Thank you so much for the generous welcome home gift! We will definitely enjoy the dinner. We will try to save it for a special occasion.

It was a pleasure working with you. Thanks to you, we have found our dream home. We couldn't be happier!

Warm Regards,

André and Terra

---


Mr. and Mrs. P. Wigglesworth, 200 Hwy.#20, Fonthill, ON

My wife Doreen and I would like to advise anyone looking to buy or sell a home in this area that they would do well to contact Cindy Raskob of Royal Lepage. Cindy is an enthusiastic and tireless worker who puts all her energies into assisting her clients sell their home at the optimum price or into helping them find the accommodations they are looking for. She is very dedicated and has a great knowledge of the real estate business and explains the many forms and regulations in easy to understand terms. Her outgoing personality and great interpersonal skills make her an excellent choice for your realtor.

Sincerely,
Paul & Doreen Wigglesworth
____________________________________________
Seta Ballesteros, Fonthill

"Tonight when you called me on my cell, our neighbours heard you talking so excitedly about all of our activity. They could not get over how hard you're working on the sale of this house! A lot of them have said that they can't believe how much you're still doing despite the fact that there's an accepted conditional offer on the table that you brought in.... (Most agents take a vacation once any accepted offer comes in). We agree and tell them how hard working you are! A few lucky people know when their in the right career when work doesn't feel like work.... I think that you're one of those lucky people! You're always so enthusiastic and your energy spills over to everyone you talk to. Thanks for alway being so optimistic about everything. We really appreciate it! And hey, looks like it payed off at the Gala...saw in the paer that you received "Platinum Award" Congrats!!! Talk To You Later... " Keeping Our Fingers Crossed!
____________________________________________
Wow!
What a Realtor Cindy is!!
You feel her energy just talking with her. She always takes time to ask you just what your needs are, she's extremely helpful in staging your home for selling and guides you every step of the way, always keeping her clients top priority in mind!
She's kind, considerate, friendly and makes you feel at ease. She always returns all our calls, great communication and advertising skills. She works really hard for her clients and extremely professional in every way.
Yes! She did make our wish come true. She sold our house with much enthusiasm and found our dream house too!
We highly recommend her and would hire her again if need be!
Your #1 with us Cindy!!
Gratefully yours,
Claude & Linda Tisi
October 30, 2009


Words seem so inadequate to express our sincere appreciation and gratitude for all that you have done on our behalf. Your invaluable knowledge, tireless energy and endless patience with us is unmatched and it's what makes you the very best at what you do! Your slogan "Hire with Confidence" is an understatement and doesn't give you enough credit for all hard work and dedication that you put into your job on a day to day basis! What can I say? It was our good fortune that we found the very best!

As an experienced Real Estate Agent, Cindy provided us with an accurate current market assessment value for our home, which met our expectations of what we thought our home was worth. We listed our home on Friday and had five competing offers by Wednesday night. We never expected the response to our home to be so overwhelming! Thanks to Cindy and staging our house, printing amazing brochures and providing the perfect write-up and pictures on MSL, we received offers above our asking price…Cindy is amazing! If you are looking for a real estate agent who goes above and beyond to get the job done...look no further you found that agent in Cindy Raskob!

Thank you so much again!

The Lamb Family
11 Caithness Street
Welland, ON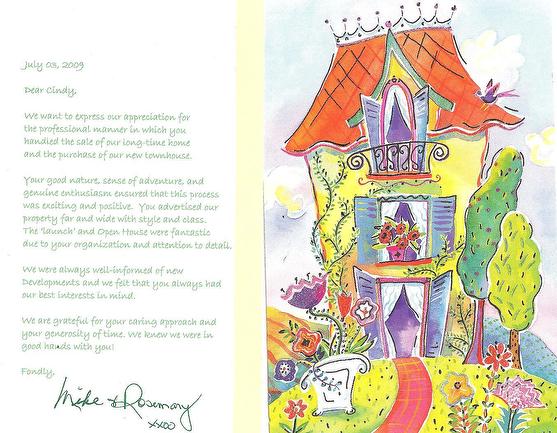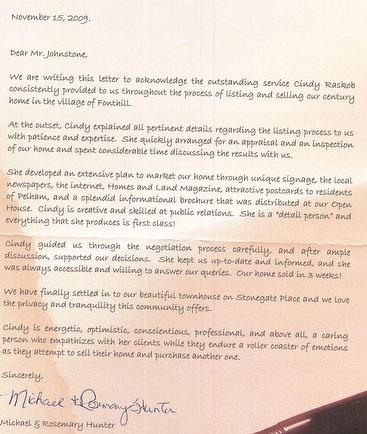 June 21, 2010

Dear Cindy,

Here is a copy of the letter we are sending to Mr. Johnstone in appreciation
of all the hard work you did for us.

Dear Mr. Johnstone,

We are writing this letter to acknowledge the outstanding service Cindy Raskob consistently provided to us throughout the process of selling our "Muskoka Setting" home in the village of Fonthill.

Cindy was always very professional, patient and courteous as she explained all the details regarding the listing process to us. She promptly put together a comparative analysis of our home, arranged for an appraisal of our home and spent considerable time giving us suggestions as to how to best stage our home.

Cindy marketed our home through the local newspapers, internet, Lands and
Homes magazine, and postcards with an array of pictures in different seasons displaying both inside and outside of our home. She put together a beautiful brochure displaying our home at its best and distributed these at our Open Houses.

We found Cindy to be very supportive, encouraging and always available to us whenever we called her. She really was tireless in her efforts. Another thing we really loved was the fact that she always gave us immediate feedback from the Open Houses and from the private showings that she or other realtors arranged.

Cindy always added the human touch to all of our concerns as we experienced the fun gamut of emotions in our journey to sell the home we lived in for 32 years. We have no reservations in recommending Cindy to anyone who wishes to sell their home. We never doubted that she would 0accomplish what she set out to do. Bravo, Cindy!

With warm regards and thanks,

Joe and Angie Santone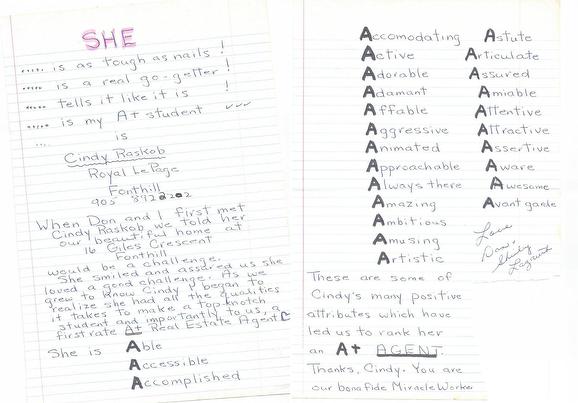 ---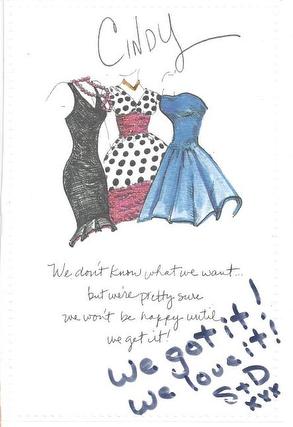 Sept. 30, 2018
Cindy and John
Dear Cindy and John
Jim and I would like to thank you both so much for all your hard work and assistance in selling our home and giving such great advice so we could buy our new home.  You were always easily accessible, answered all our questions promptly and were so patient with us!  We had a lot of laughs which helped take some of the stress out of the whole process.

We were so impressed with how quickly you got our house listed, pictures taken, and then sold. We would be happy to recommend you both! Thanks again for everything you do.

Wendy Hammond and Jim Chalcraft
Jim Chalcraft and Wendy Hammond
---
---